UPDATES! Bagi Rekan-rekan Bloger yang ingin mengkopas (copy paste) review ini, ataupun yang ingin membahas di sebuah forum atau sekedar ikut mempromosikan software ini baik melalui facebook, twitter ataupun jejaring sosial lainnya, saya persilahkan :) Jangan lupa untuk menyampaikan link-nya setelah dicopas melalui email saya yossysetiawan@gmail.com. Terima kasih.

Prolog:
Ini adalah alat yang sangat nyaman untuk para blogger. Ketika Anda menulis posting di blog anda, anda perlu untuk menangkap dan gambar tanaman dari sumber yang berbeda - alat ini cocok untuk Anda.
Tangkap yang Anda lihat pada layar PC anda! Jangan buang waktu menyunting hasil capturan Anda. Ambil "snapshot" dari manapun sesuai dengan apa yang Anda butuhkan, dengan hanya satu klik. Tak tergantikan alat untuk Blogger, Desainer, Kantor Pekerja, Pengusaha, Analis, Teknis Penulis yang harus menggambarkan antarmuka, menu, tombol, dll.

Mendukung hotkeys, menyimpan secara otomatis, clipboard

Secara otomatis menyalin screenshot ke clipboard

Menelusuri hasil capture sebelumnya, otomatis menyimpan foto yang diambil

Menyimpan file dalam format BMP, GIF, JPEG, PNG dan format TIFF

- Nama foto yang diambil akan di arsipkan secara otomatis
Download and install SnapIt Screen Capture 3.7.103668:
http://digeus.com/downloads/snapit/files/3/snapit_3_7.exe
Learn more what is included in SnapIt Screen Capture 3.7.103668:
http://www.digeus.com/products/snapit/snapit_screen_capture_3_5.html
Berikut ini adalah cara mengoperasikannya:
Capture anything you see on your PC screen!
Don't waste time cropping your captures. Take a "snapshot" of anything exactly what you need, with just a click.
Easy to Learn, Easy to Use!
Using SnapIt Screen Capture Software takes just three simple steps:
1. Start the program (click on the program's icon). It appears minimized in a system tray: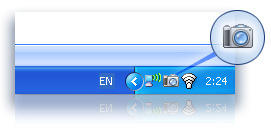 2. Click PrtScr (Print Screen) button and select with mouse what you need to capture on the screen. After selecting the region it is automatically copied to the clipboard.
3. Save a snapshot from the clipboard with any way you like:

Open Microsoft Word and create new document. Press Ctrl+v combination and paste image from the clipboard to the document. Technical Writers often use this approach to describe program interfaces.

Open Photoshop. Create new image file or open existed image file. Simply paste captured image from the clipboard (press Ctrl+v combination). This approach is convenient for Graphic Designers in order to make collages.

Right mouse click on the SnapIt icon in a system tray and you will see the menu bellow. Choose "Save As" and save captured image as bmp, png, gif, jpg, etc file.
4. Use the Properties menu to define the hot key you want to press to take your screenshots
The most powerful feature of SnapIt:
In menu Properties you may switch on "Auto save images" option. It means that every time you capture image on your PC screen you don't need to save it! It will be saved automatically in the selected folder with selected image type. It is a very convenient feature for web designers who surf the Internet for new graphic ideas and want to save them in their local collection with one click.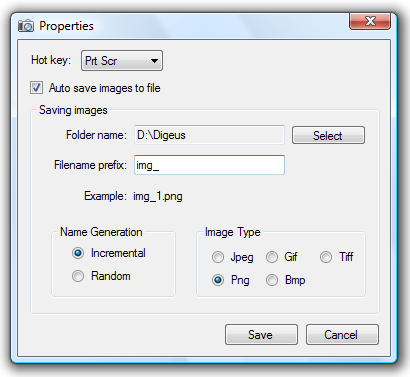 Top features:

Supports hotkeys, auto-saving, clipboard

Automatically copies screenshots to the clipboard

Saves files in
BMP
,
GIF
,
JPEG
,
PNG
and
TIFF
formats

Irreplaceable tool for Designers, Office Workers, Business People, Analysts and more

Perfect for Technical Writers who have to describe interfaces, menus, buttons, etc.